I'm throwing exclamation marks around because it's shaping up to be a great month. I'm returning to Write Club Denver on February 7 and hosting the delightful Adam Booth for both a masterclass on cinematic storytelling and a house concert on February 24!
My Write Club topic is "Love." Plenty to say about that! Will I come home with a third trophy? Doesn't love always win? Get more information at Write Club Denver's Facebook page. Then come cheer me on!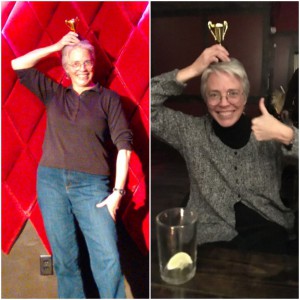 I first met Adam in person at the Timpanogos in September of 2018, though our stories appeared together on Episode Thirty of the Story Story Podcast. His teaching was excellent, and his storytelling mesmerized me. I'm pinching myself that I have the opportunity to host him and eager to learn from and listen to him again! Check out more information about Adam Booth's Masterclass here, and our Evening of Stories here.  You don't want to miss him on February 24 in Boulder, CO!