Upcoming appearances:
I'm delighted to be part of Beaver Tales in Beaver, PA September 15, 2023!
Some Past appearances:
Rocky Mountain Storytelling "Story Seeds" Conference and Concerts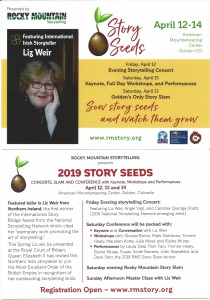 Several Silly Summertime Stories and Spirits
Tales from around the world featuring extraordinary characters can help us usher in summer with smiles, giggles and laughter.  Enjoy a refreshing drink while professional storytellers Laura Deal and Kathy Santopietro share stories that tickle our funny bones and surface some blossoming humor.  What a way to welcome the season of daisies, picnics, hay rides, and high jinks together!
Saturday, June 8, 2019 at Still Cellars, 1115 Colorado Ave, Longmont, CO 80501
Doors open at 6 p.m., stories begin at 7 p.m. Alcoholic and non-alcoholic beverages available.
Join us as Northern Colorado Storytellers Rachel Ann Harding and Laura Deal stretch the galaxy of imagination as they tell tales from a variety of cultures about the universe and stars.
Saturday, June 15, 2019 2pm-3pm, at the Windsor-Severance Library located at 720 3rd Street, Windsor, CO 80550
STORYTELLING HOUSE CONCERT JUNE 12, 2018
Join us for a cozy evening of storytelling in the Table Mesa area of South Boulder, featuring two teams of storytellers: Rachel Ann Harding and Cooper Braun, who are "Stories with Spirit," and Laura Deal and Wynn Montgomery, who are "Truth and Lies."  This show features some new original work, some traditional tales, and some of the storytellers' favorites.
Please note: Stories will be for ages 12 and up, and there are cats who live in the house! Exact address will be sent a few days before the show.
Doors open at 6:00 p.m.  For tickets and more information: https://www.eventbrite.com/e/an-evening-of-stories-with-stories-with-spirit-and-truth-and-lies-tickets-45869609236
FRINGE PERFORMANCE AT THE NATIONAL STORYTELLING NETWORK SUMMIT SATURDAY, JULY 28, 2018
"Gaia Tells All: Confessions of a Global Diety"
First rule for deities? Never divulge your secrets. But Gaia can't resist telling stories about plans gone wrong, forbidden passions, and her favorite sensual experiences.
TIMP TELL CONTEST FRIDAY SEPTEMBER 7, 2018
I'm thrilled to announce that I'm one of five finalists in the Timpanogos Storytelling Festival's Timp Tell Event! I will be telling "The Diffendaffer Taffy Cafe."
*****************************************************************************************
CD Release! Laura's storytelling CD, The Diffendaffer Taffy Cafe, is now available! With one original tall tale and six traditional tales (told with some twists), this CD is appropriate for children and adults.
Laura will be appearing at the Boulder County Fair on Thursday, August 3, 2017 as part of Wordsmiths Theatre.
New videos from Truth Be Told!
"Diffendaffer"–the story that prompted the rebirth of an old creative project:

"Tour of Duty" from the April Slam:

"Rule Three: Don't Play with Matches" from the February Grand Slam: