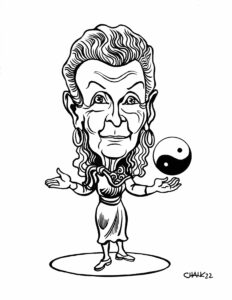 I'm delighted to be offering the first in-person performance of my portrayal of Marion Woodman at Boulder's West Age Well Center, next to the main library on October 25 at 1 p.m.. I debuted this show online last January, as part of Humanities North Dakota's Chautauqua Training Institute, but this will be my first time with an audience I can actually see and hear! Marion Woodman's work speaks to me on many levels, partly because she herself was a fantastic storyteller with some astonishing life experiences, and her teachings are still vital in the world.
Here's the description from the October Program Guide:
Living History Performance: Marion Woodman
Wednesday October 25, 1:00 – 2:00 p.m.
West Age Well Center, 909 Arapahoe Ave., Boulder, Colorado
Marion Woodman (1928-2018) became a guiding light of Jungian studies through struggles to heal anorexia nervosa in herself and eating disorders in others. This living history program presents Marion's ideas and personal stories and allows time for audience questions. Performer Laura Deal is a scholar and storyteller with a Ph.D. in History from the University of Colorado at Boulder.
This program is available to adults age 60+. Please register to attend. Click here to register online or call 303-441-3148, course code 33660